Gewalt, March 22nd—May 6th, 2013
Family, Los Angeles, CA

Gewalt—a German word meaning both "violence" and "authority" or "established power"—is an investigation into the media utilized within contemporary systemic authorities and the subsequent violence that exists.
The exhibition is comprised of sculptures, prints, and videos utilizing propaganda culled from various sources: The New York Times, the NYPD, and an array of radical/conservative ideological texts.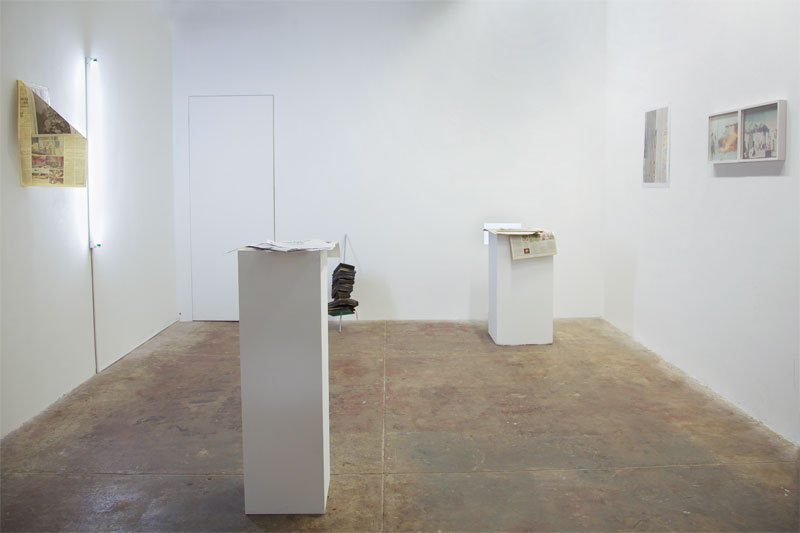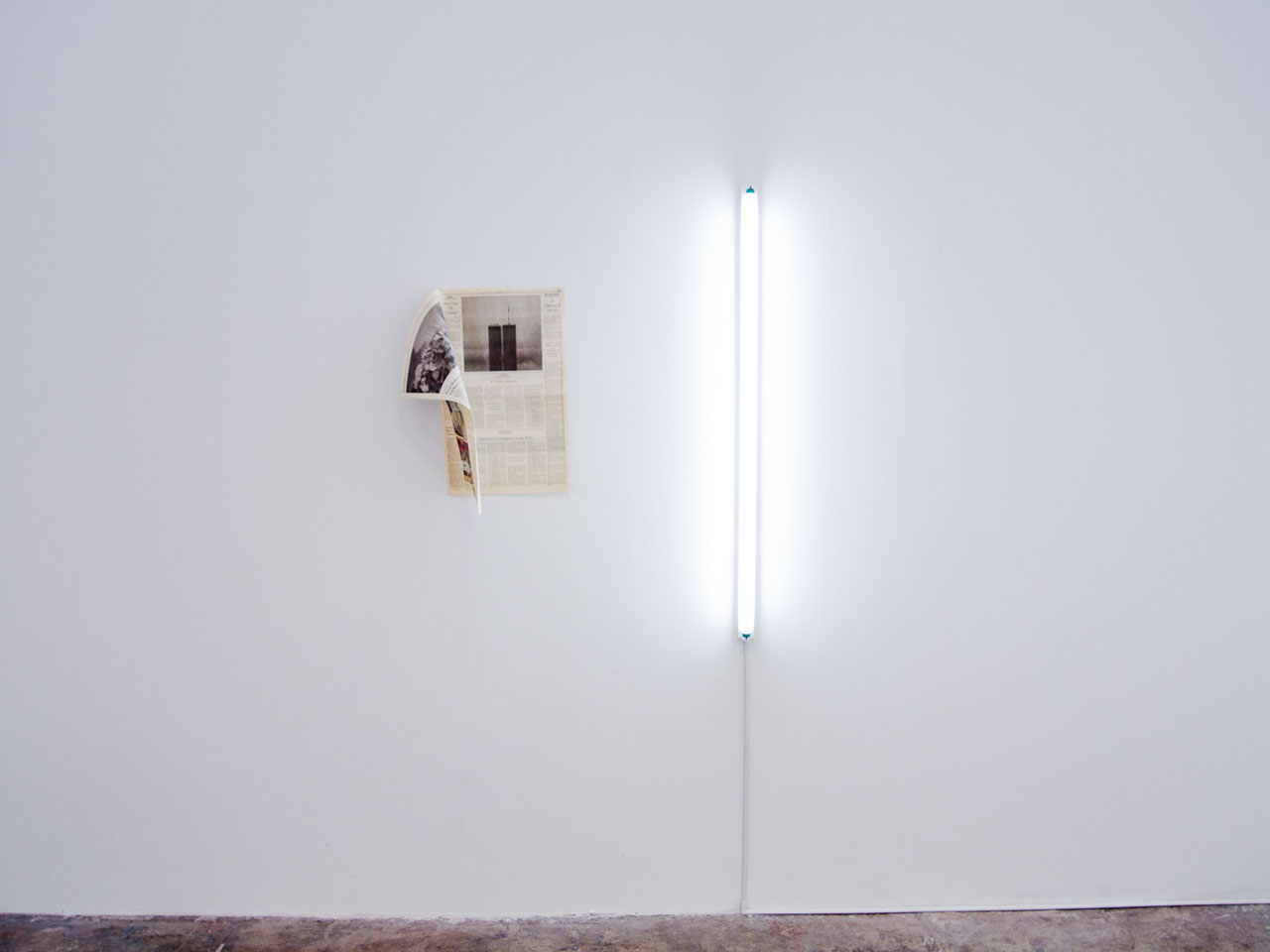 September 12th, 2001
, 2013
22x14"
New York Times, nails, fluorescent light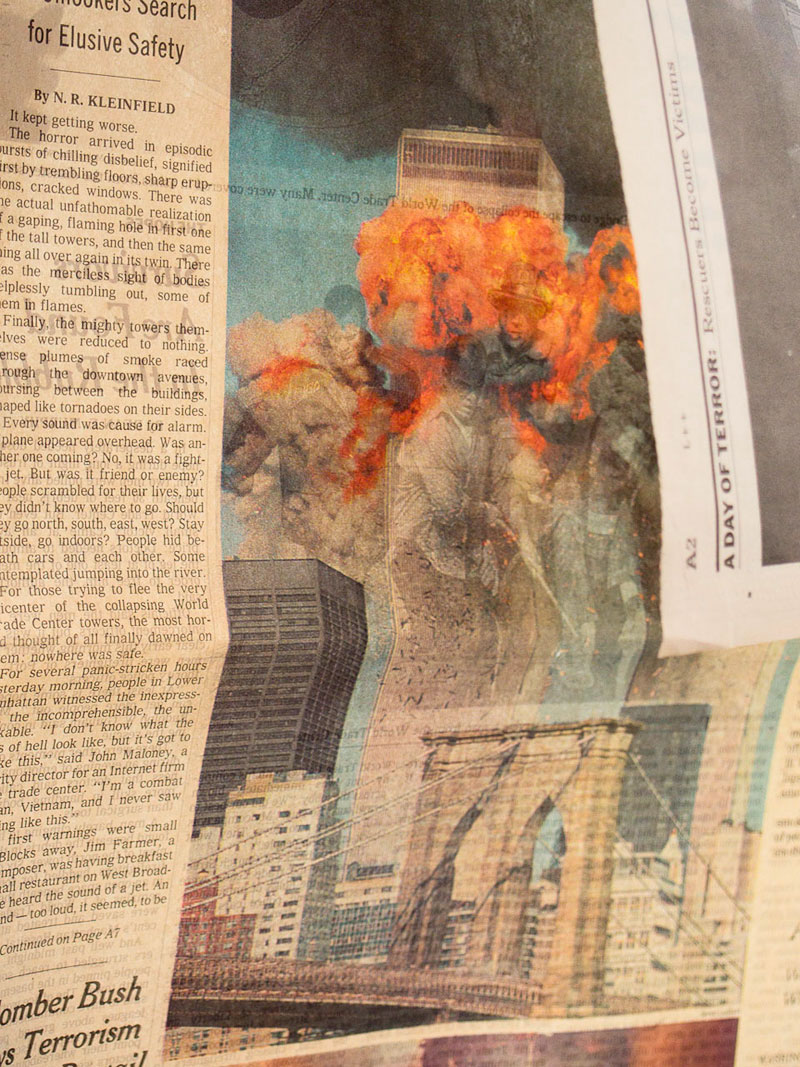 Detail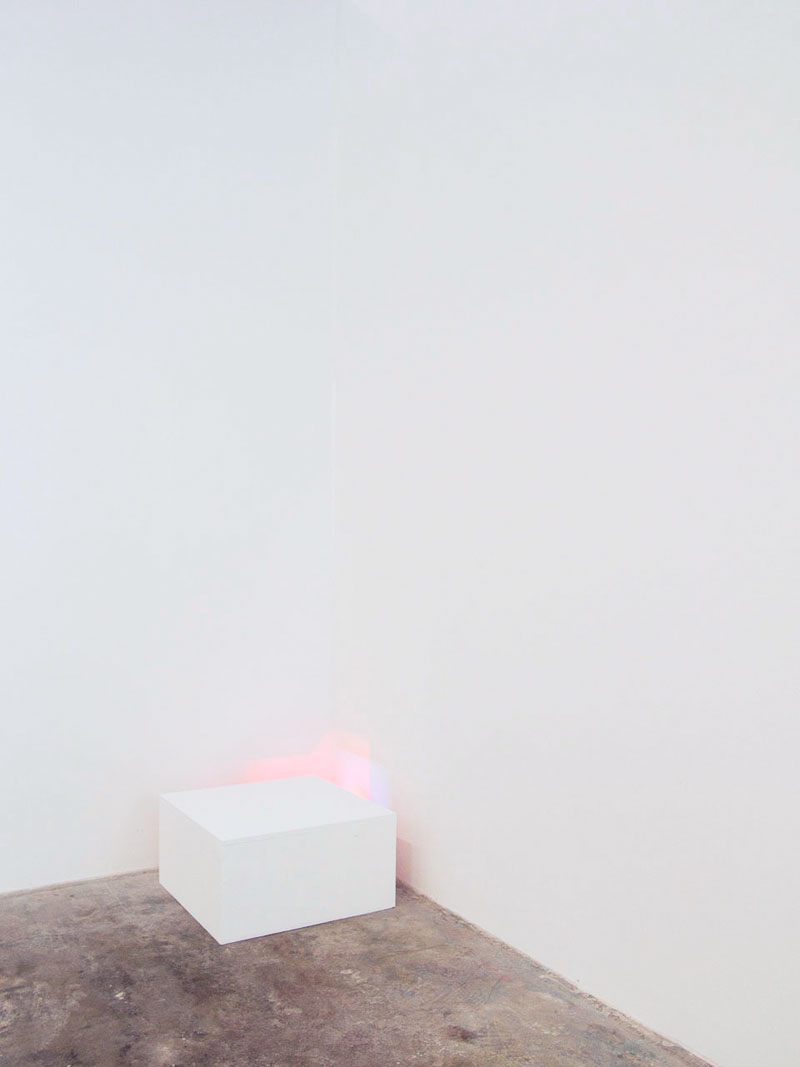 Untitled (Beacon lights)
, 2013 18x18x10"
Red and Blue beacon lights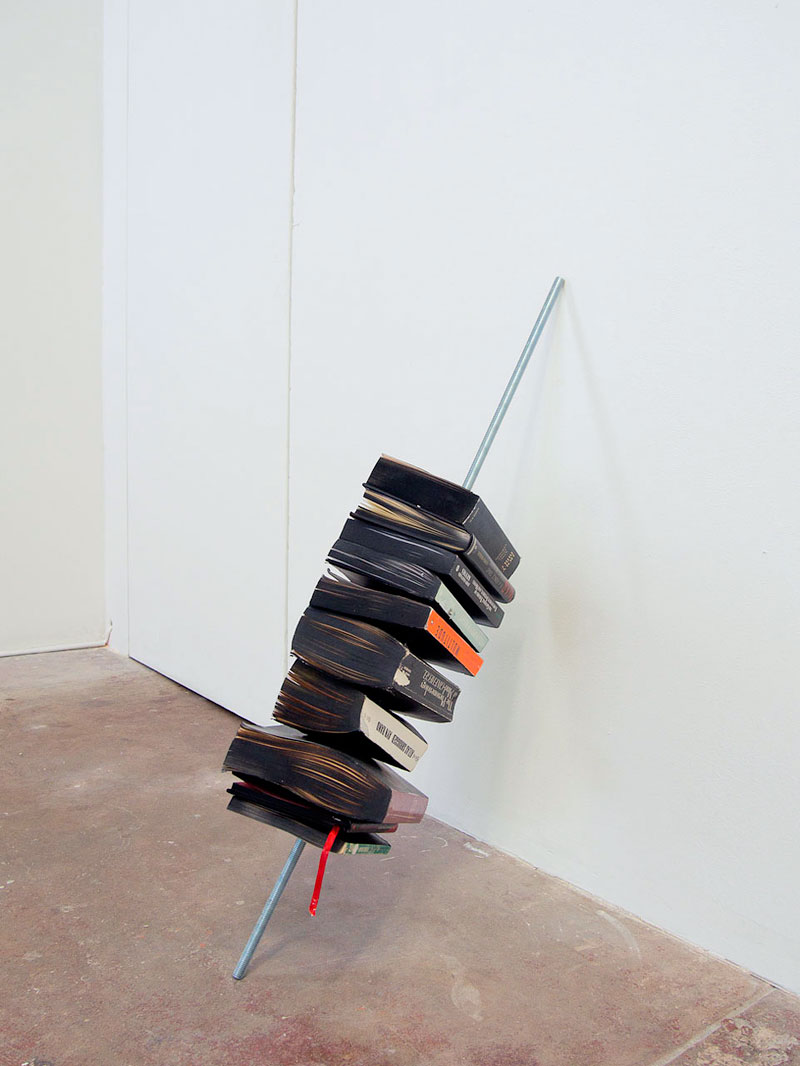 In Defense Of
, 2013
38x10x7"
10 ideological texts (
Holy Bible (King James Version), War Is A Force That Gives Us Meaning (Chris Hedges), The General Theory of Employment, Interest, and Money (John Maynard Keynes), Philosophy of Right (Georg Hegel), Multitude: War and Democracy in the Age of Empire (Antonioni Negri/Michael Hardt), The Phenomenology of Mind (Georg Hegel), Atlas Shrugged (Ayn Rand), The Torah, The Communist Manifesto (Karl Marx), Capitalism and Freedom (Milton Friedman)
), threaded rod, washer's, nut's, spray paint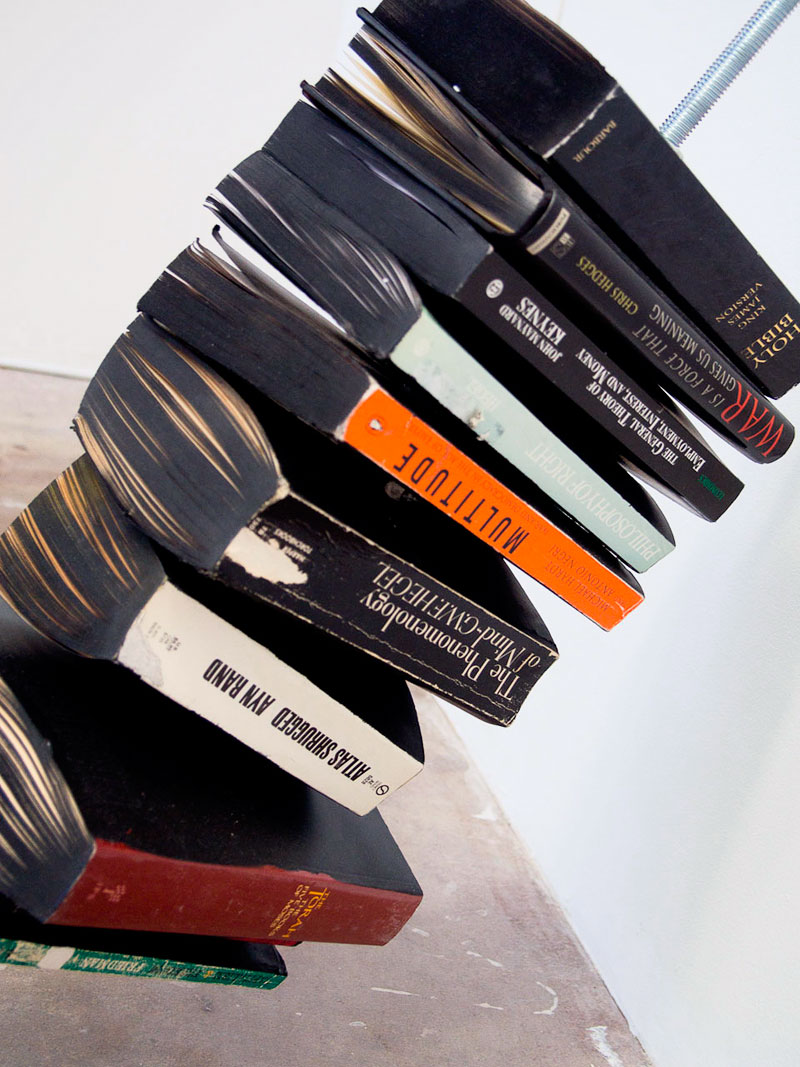 Detail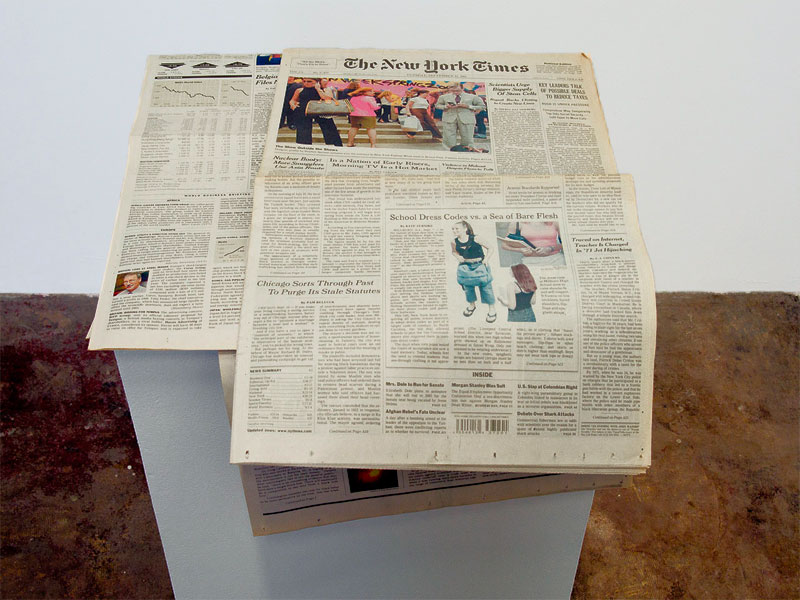 September 11th, 2001
, 2013
26x18"
New York Times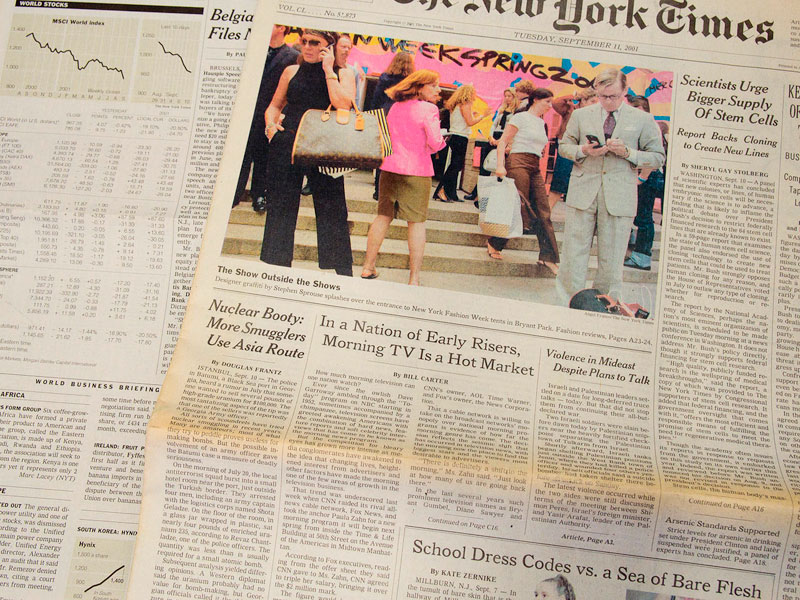 Detail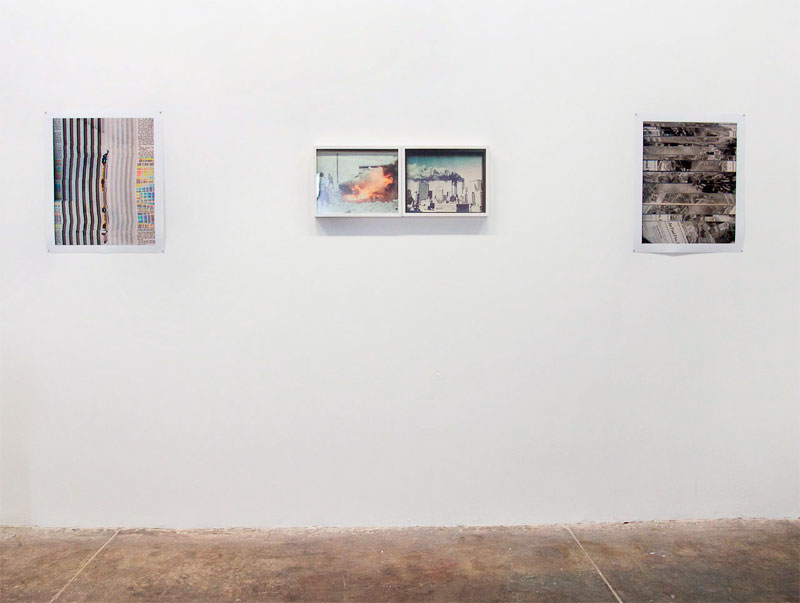 (From left to right)
All That Fits
, 2012
20x24"
C-print
Edition of 5
-
Bowery and Dey
, 2013
11.75x29.5"
Archival pigment prints
Edition of 3
-
All That Fits
, 2012
20x24"
C-print
Edition of 5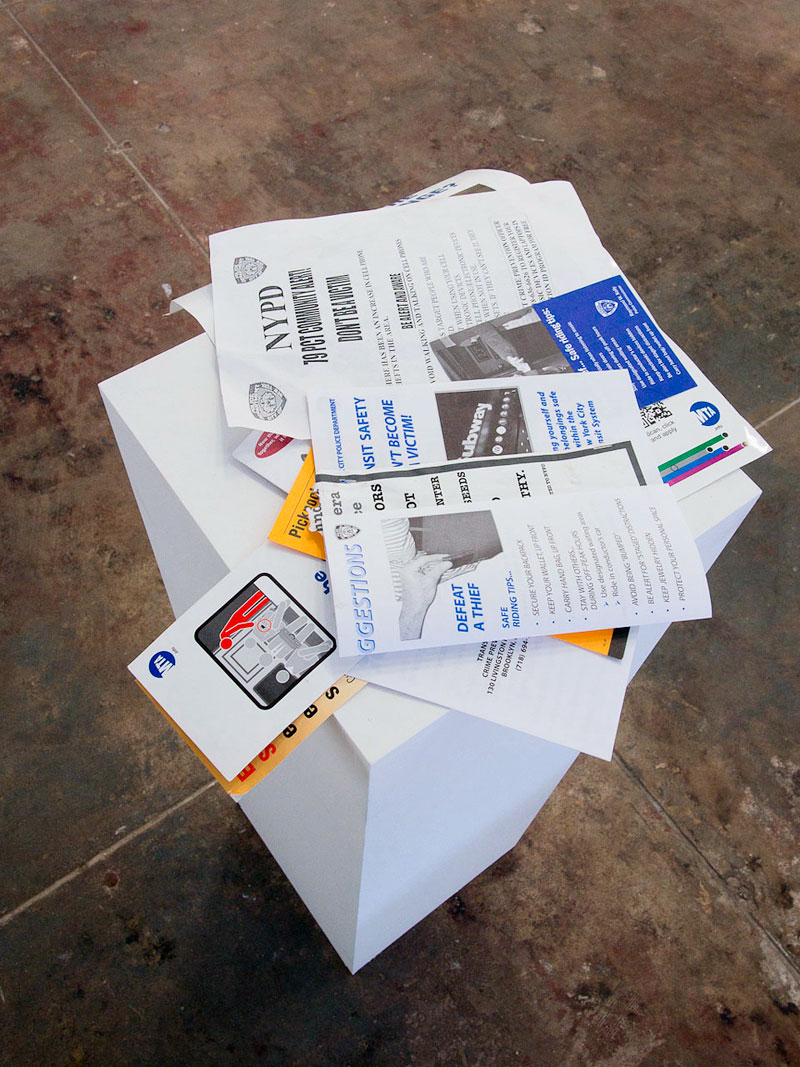 Untitled (NYPD propaganda)
, 2013
18x16"
NYPD MTA brochures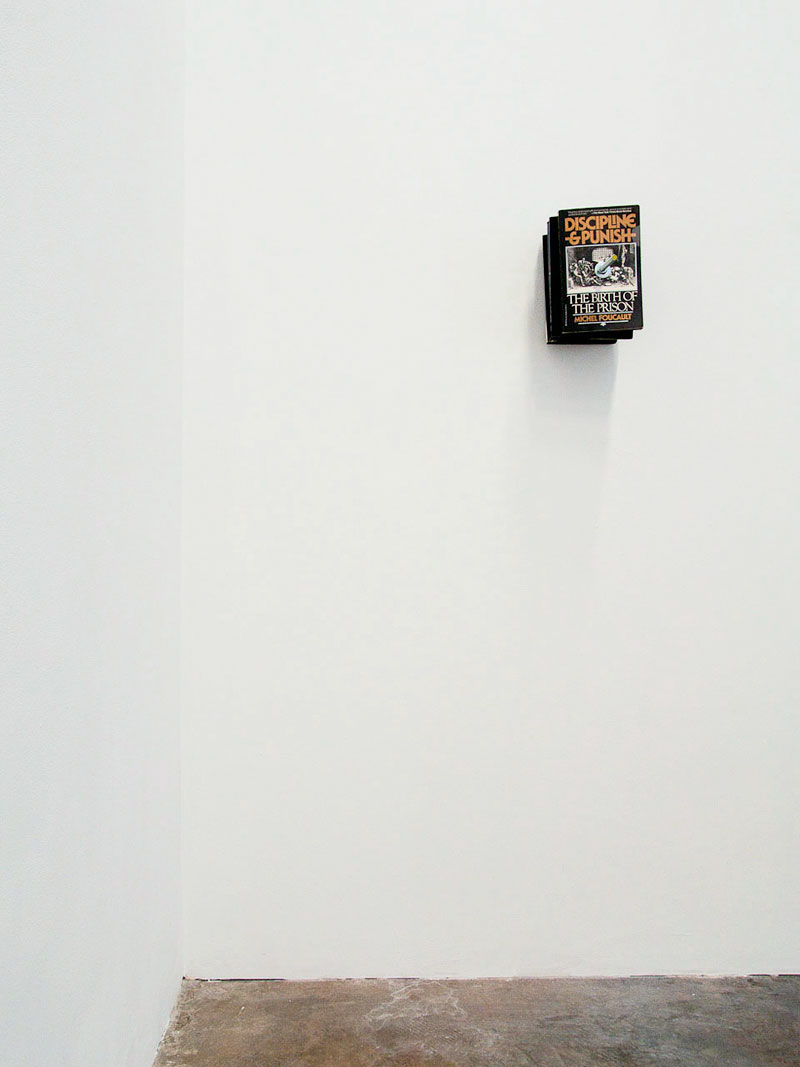 In Defense Of
, 2013
11x8.5x6"
5 ideological texts (
The Koran, Mein Kampf (Adolf Hitler), The Coming Insurrection (The Invisible Committee), Free to Choose: A Personal Statement (Milton & Rose Friedman), Discipline & Punish (Michel Foucault)
), threaded rod, washer's, nut's, spray paint
Detail
---
To Preserve Disorder with Joaquín Segura, 2012
Otras Obras, Tijuana, Mexico

Building a State division—and in its affect, creating a hierarchy—is not only a method of destruction through creation, but a method of control. Propaganda concurrently reinforces and eliminates the inherent punctum of proclaimed power that division creates. One is capable of controlling and sustaining fate through bifurcated means—destructively through physical and cultural severance and supportively through desire.
War—by whatever means necessary—is the only tool we have to eradicate these methods of oppression. Binaries do exist, and in order to destroy them, radical approaches are required. The beginning of State invalidation must occur through cultural means, whether through intervention or abolishment. Propaganda is the entry point for infiltration and subsequent enlightenment regarding the oppression that exists through spheres that are concurrently economic, political, media, and mainstream cultural, all of which deserve the swiftly approaching eradication.
To Preserve Disorder
, the inaugural exhibition at Otras Obras, features the work's of Jesse Hlebo and
Joaquín Segura
. Through a series of both solo and remotely-collaborative pieces—specifically devised for this exhibition—the artists explore the politically charged topics of failed states, post-nationalism, and cultural identities in an age of crisis. Utilitarian sculptural interventions, destroyed documents, and materials for potential acts of terror are among the elements utilized within the exhibition space.
To Preserve Disorder
questions the effectiveness of contemporary art as a crucial tool for critical engagement in this age of crisis, authoritarian control, and social dissolve.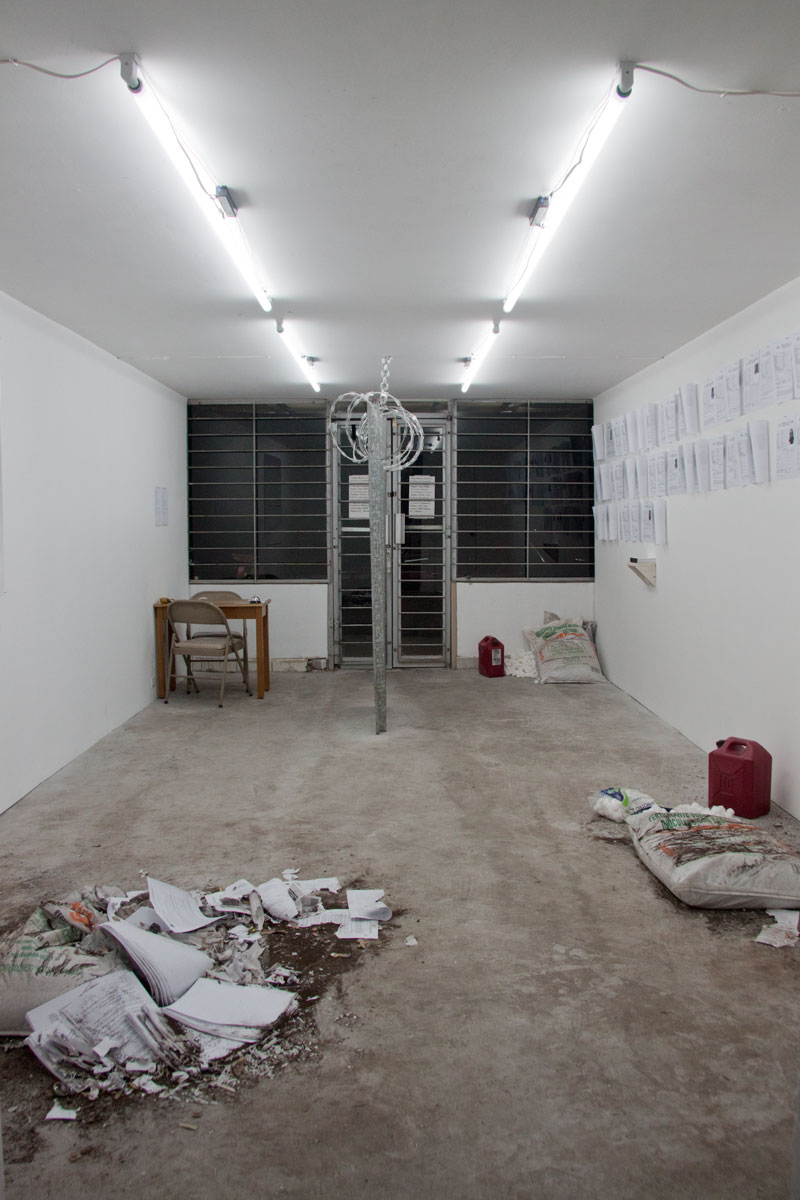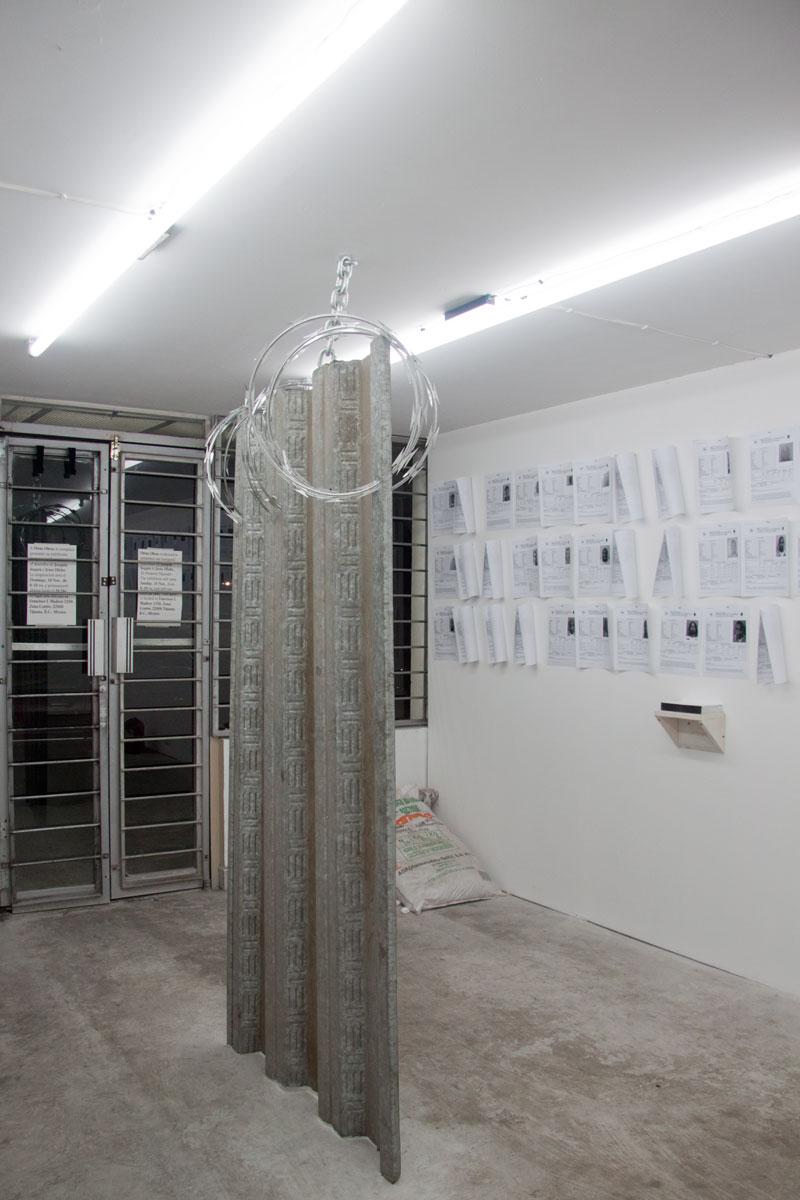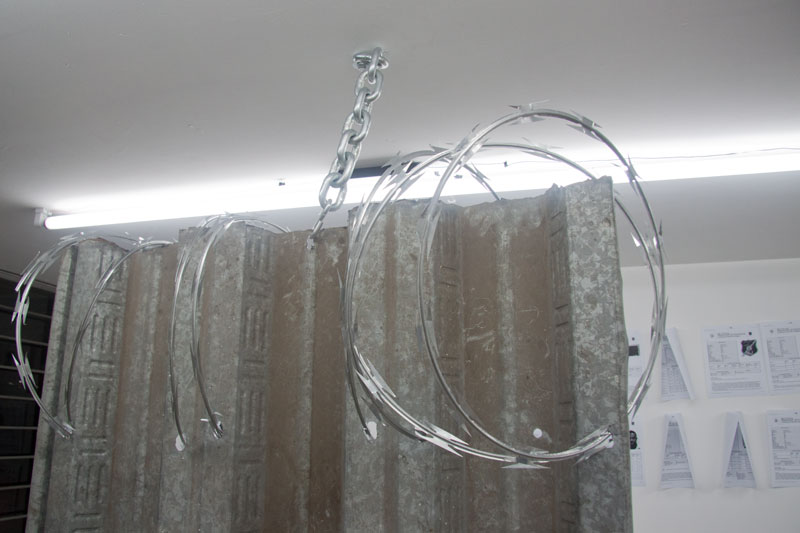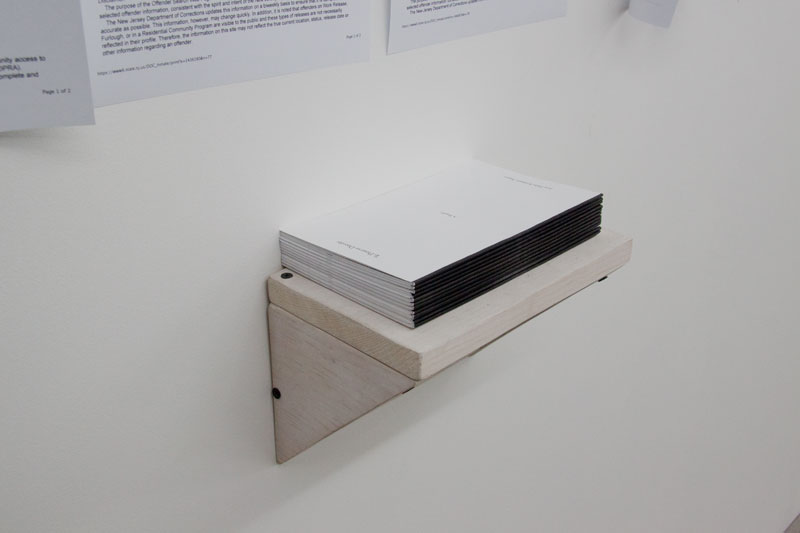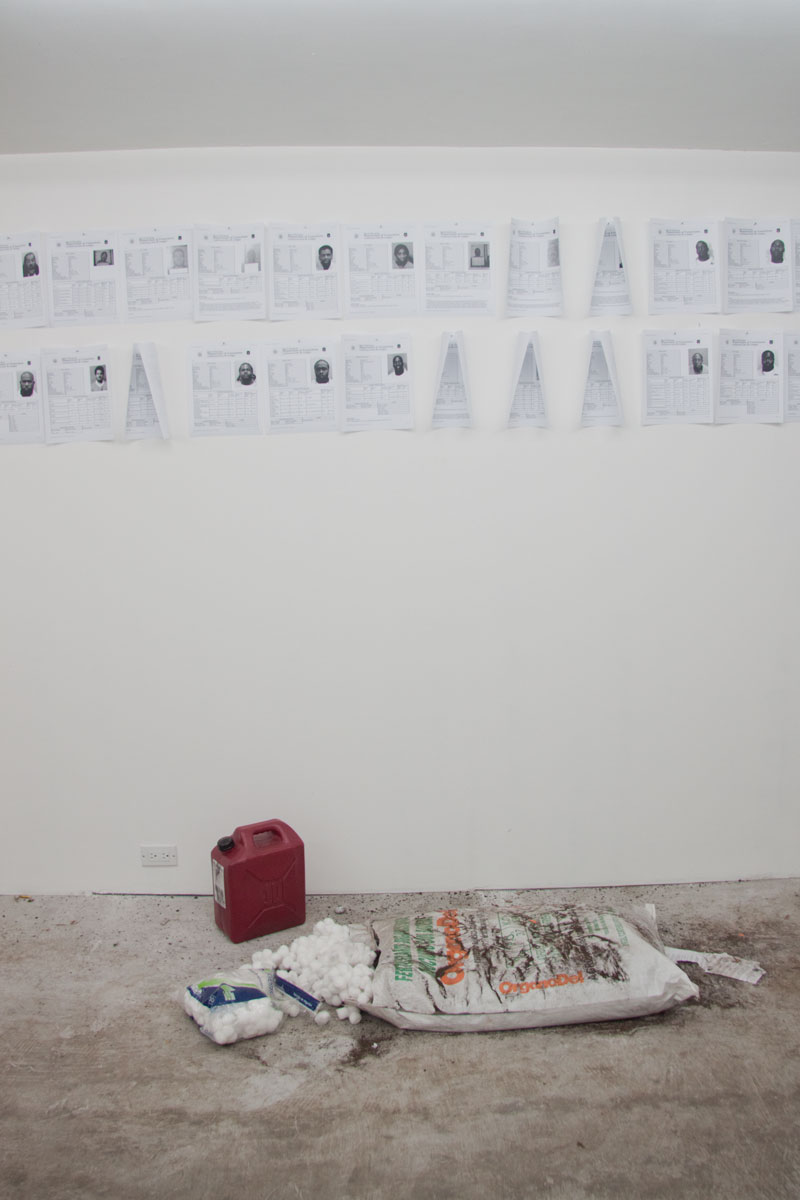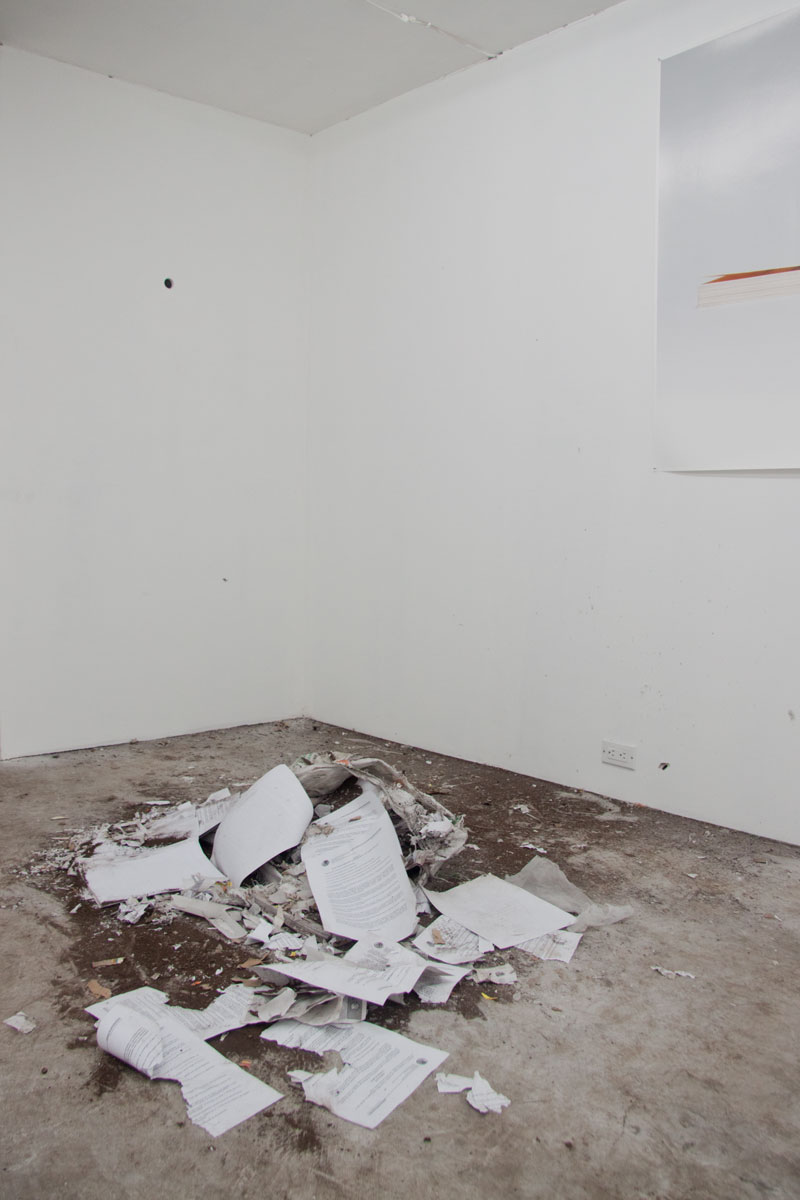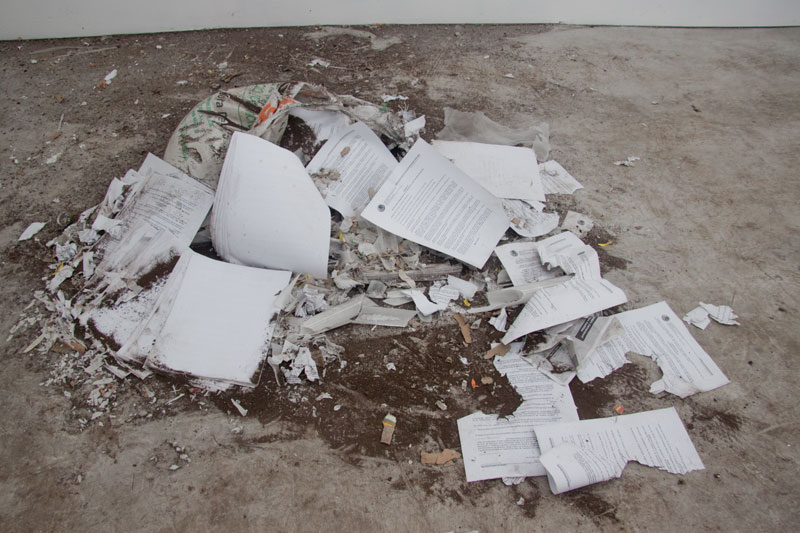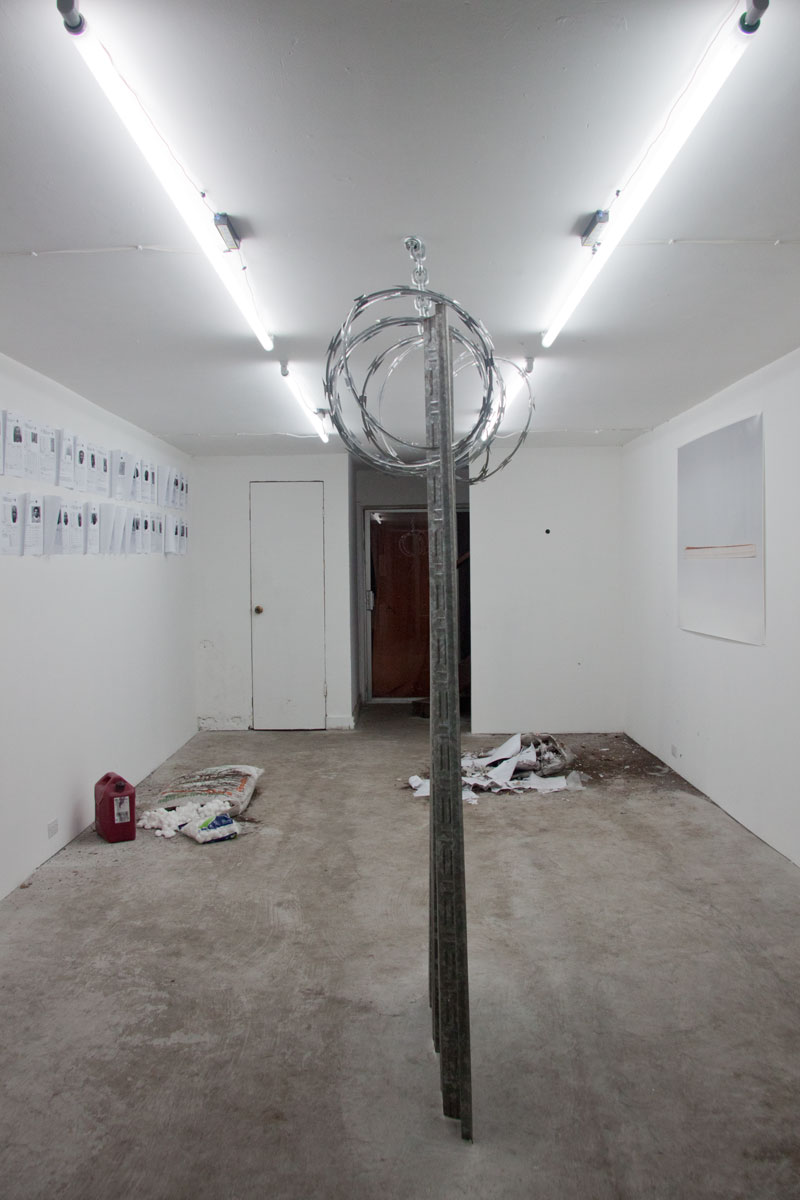 ---
Habit Towards Obedience, 2012
Clocktower Gallery, NYC

Habit Towards Obedience consisted of three movements based on the U.S. prison system.
The first movement was an extraction of rhythms from prison spirituals and gospel songs played by Kid Millions on a single snare.
The second movement consisted of a text created by Caroline Busta and Jesse Hlebo. The text is an amalgamation of writings and quotes related to the U.S. prison system, re-structured into a liturgical format.
The attendee's were led in the reading of the text by Jesse Hlebo.
The third and final movement was Billy Taylor's song "I Wish I Knew How It Would Feel To Be Free" sung and repeated three time's by Fay Victor. Each subsequent repetion decreased in tempo.
Upon entering the Clocktower Gallery's building at 108 Leonard St, itself a center of criminal court's, attendees were required to pass through a security check point. Proceeding to the twelfth floor, and then onto the thirteenth via a fire exit stairwell, attendees were subjected to further check points instituted by Hlebo.
In order to enter the gallery in which the piece occurred, attendees were required to take off their shoes and place their cell phone's inside, refrain from photography, and were not allowed to sit inside of the space during the duration of the piece.
Six orange prison jumpsuits, aquired from Bob Barker Company, Inc., were hung in front of the windows. Hlebo masqueraded as a correctional facility in order to aquire the jumpsuits.
PDF of the second movement's text can be downloaded here.
Filmed by Grant Willing / Edited by Jesse Hlebo / Sound by Jeannie Hopper

Generous support provided by The Andy Warhol Foundation for the Visual Arts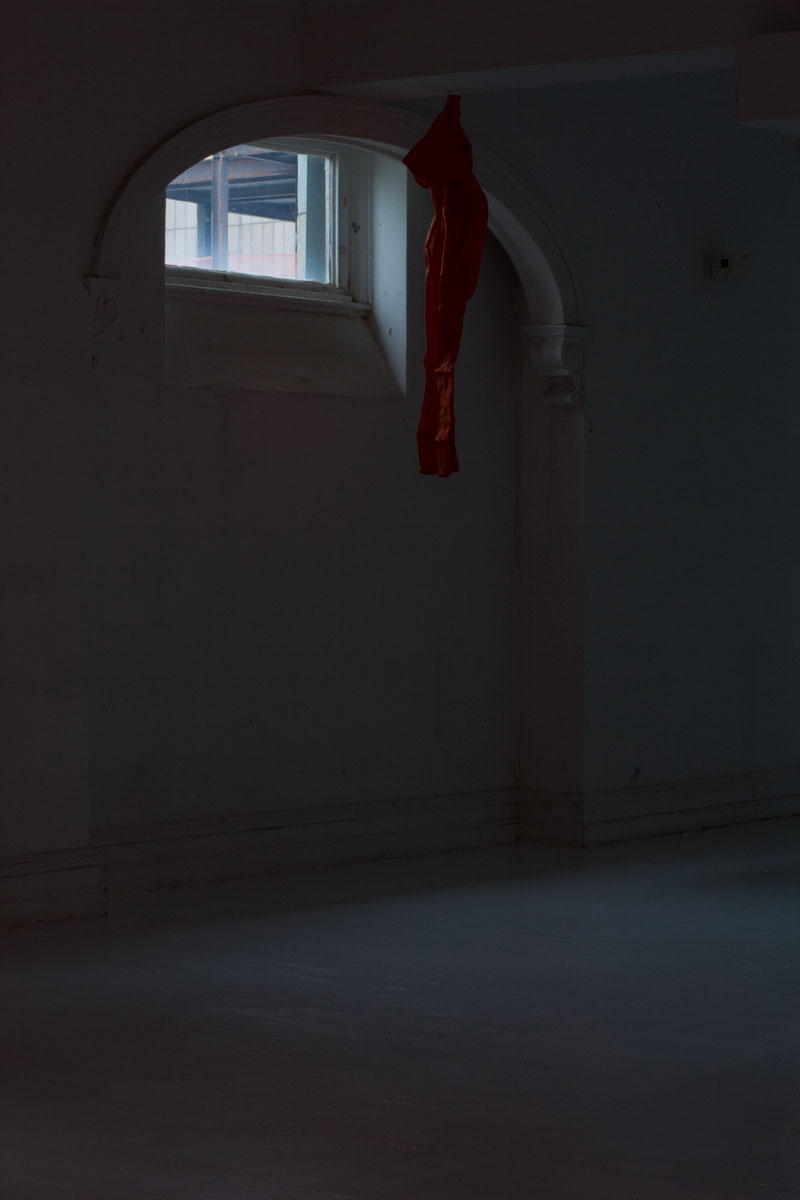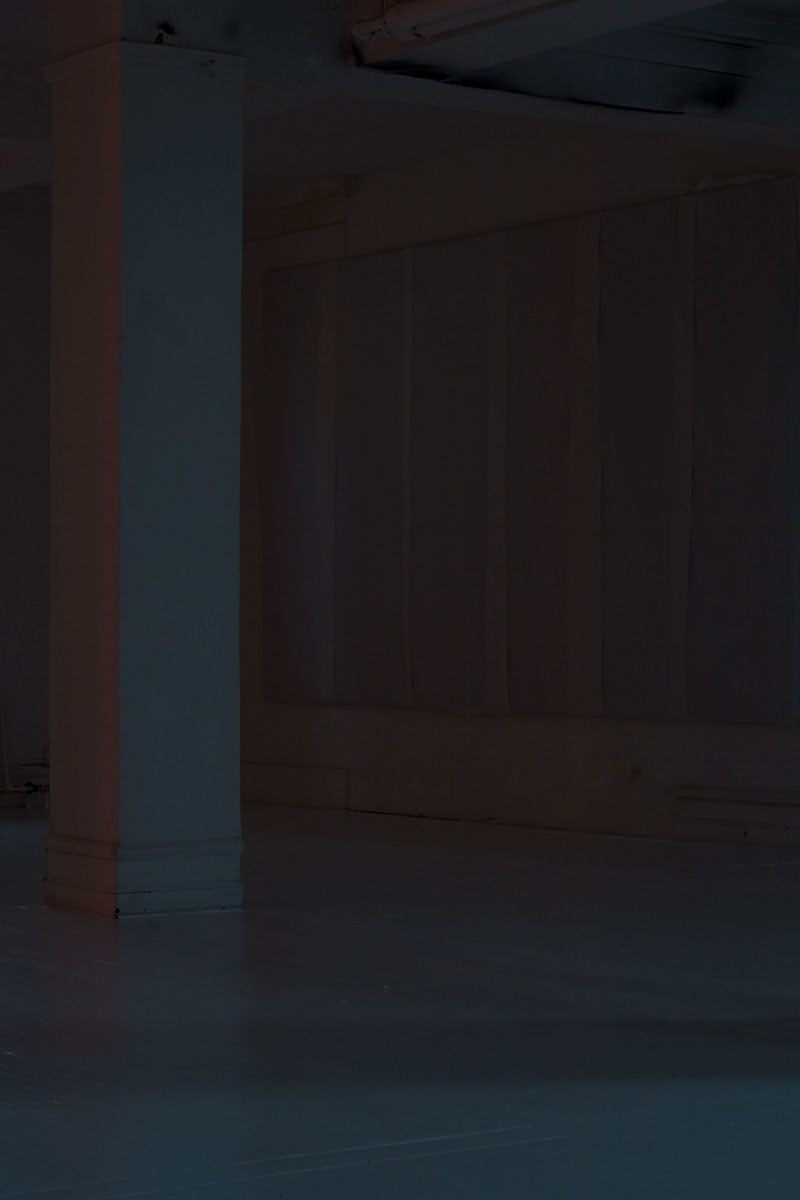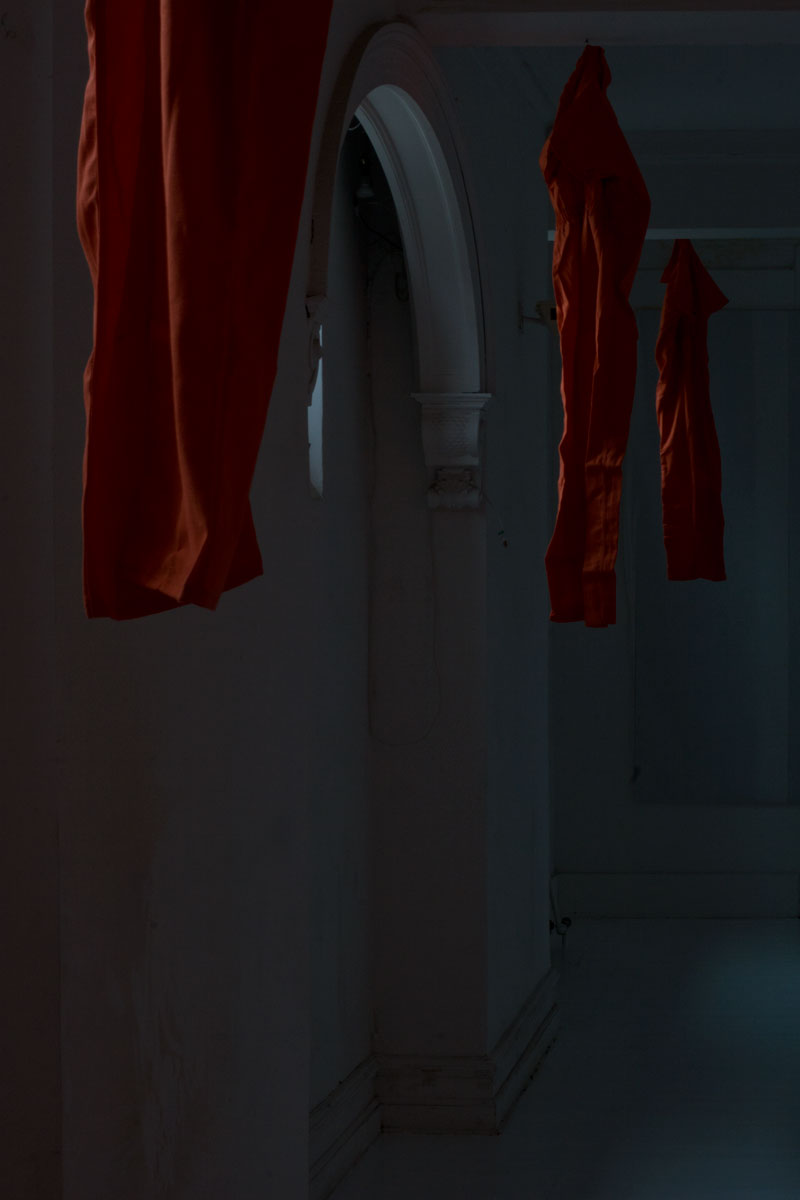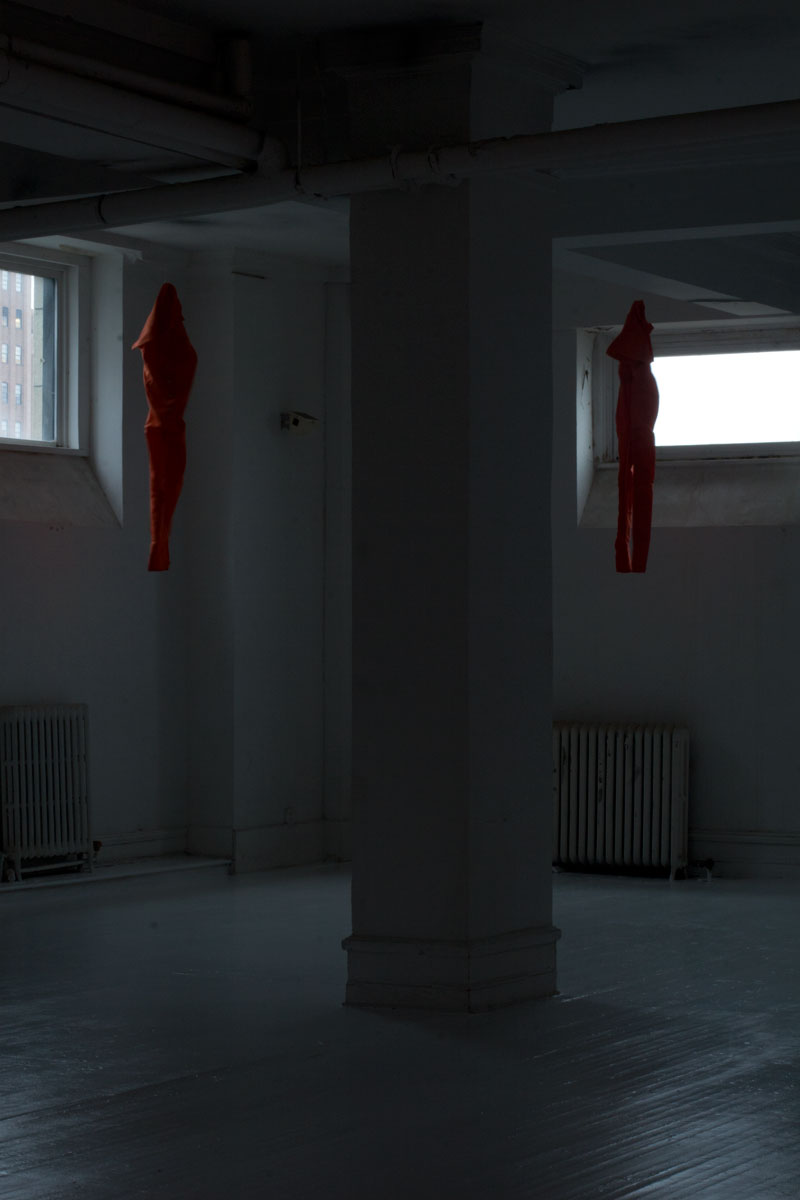 ---
Apathanarchism
, 2012
16.5 x 22.75"
Full Color Offset on Newsprint
Edition of 10,000
Commissioned by Showpaper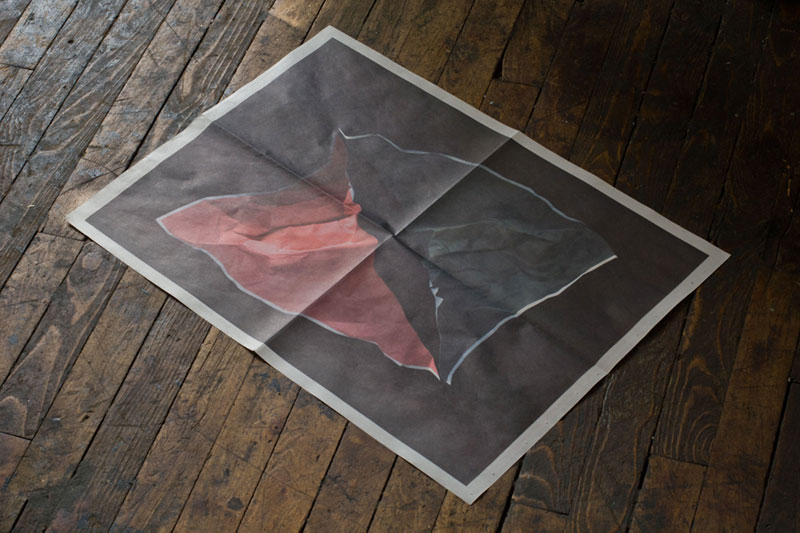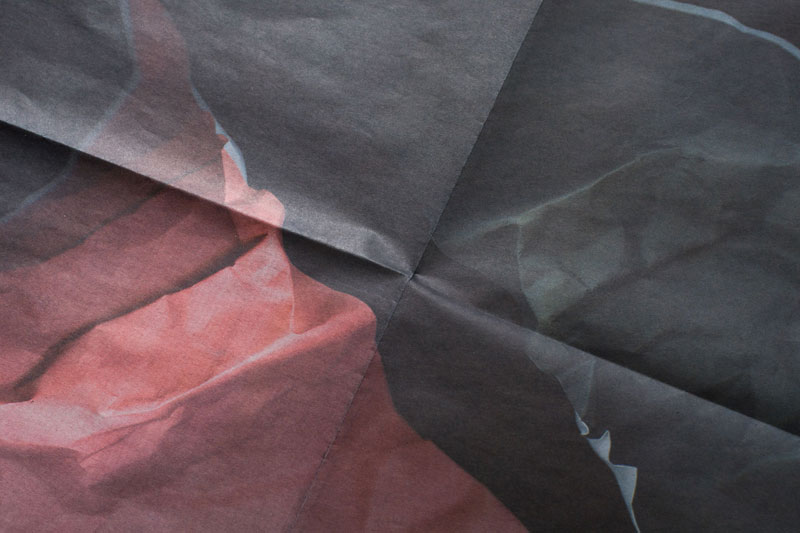 ---
All That Fits
, 2012
40 x 48"
Archival Pigment Prints
Edition of 5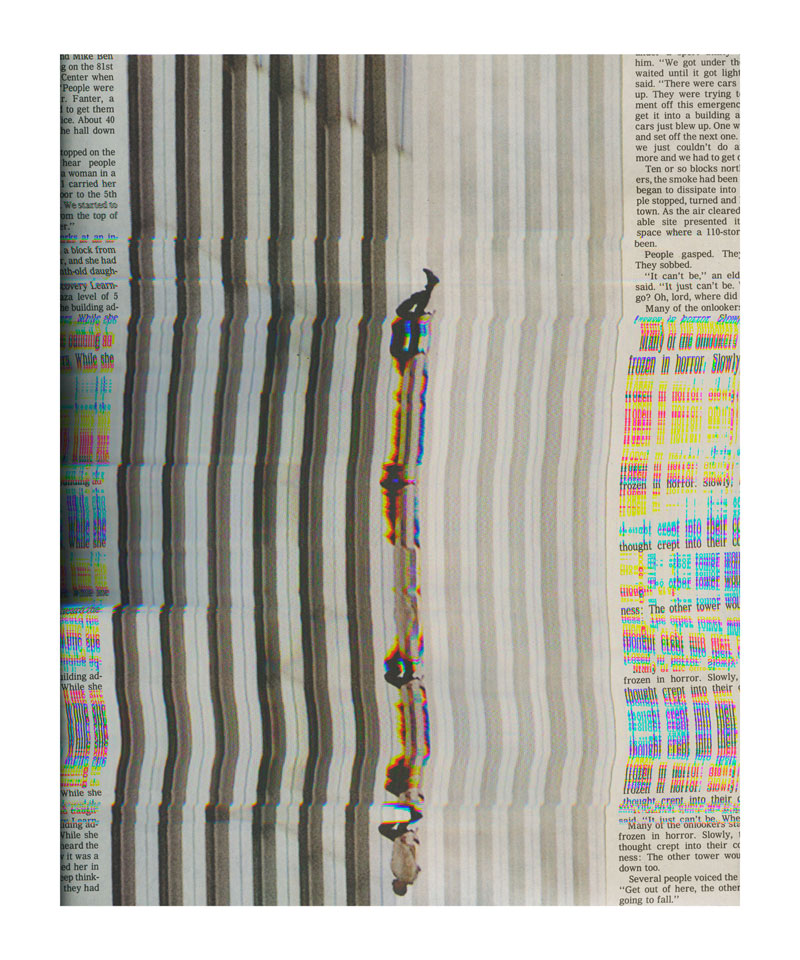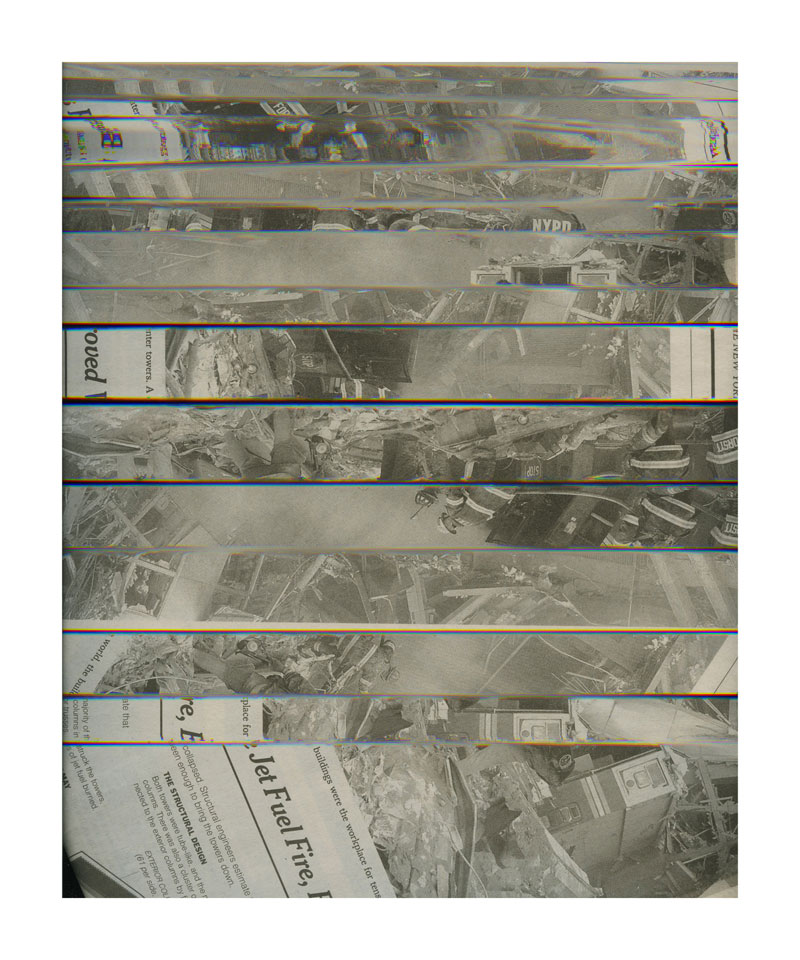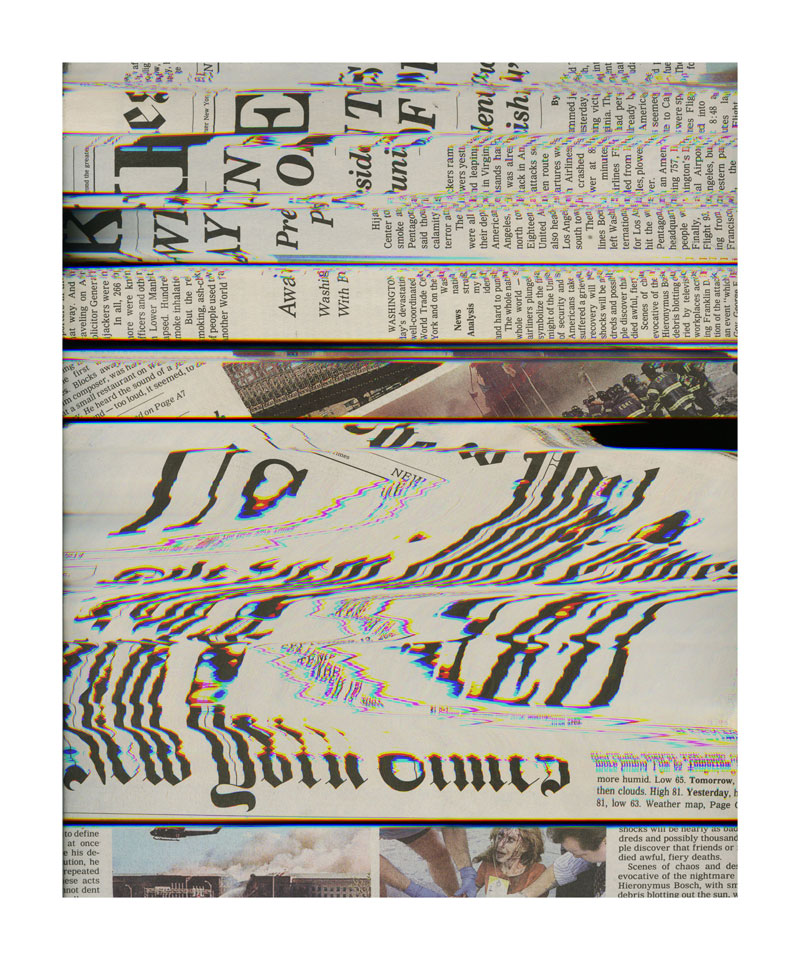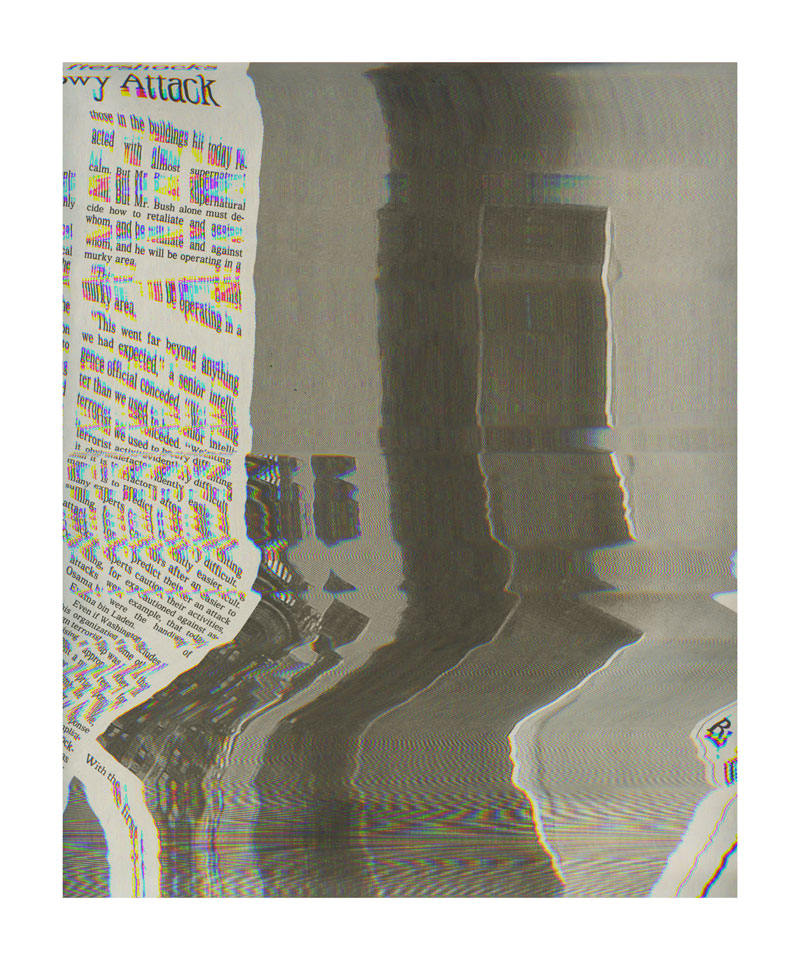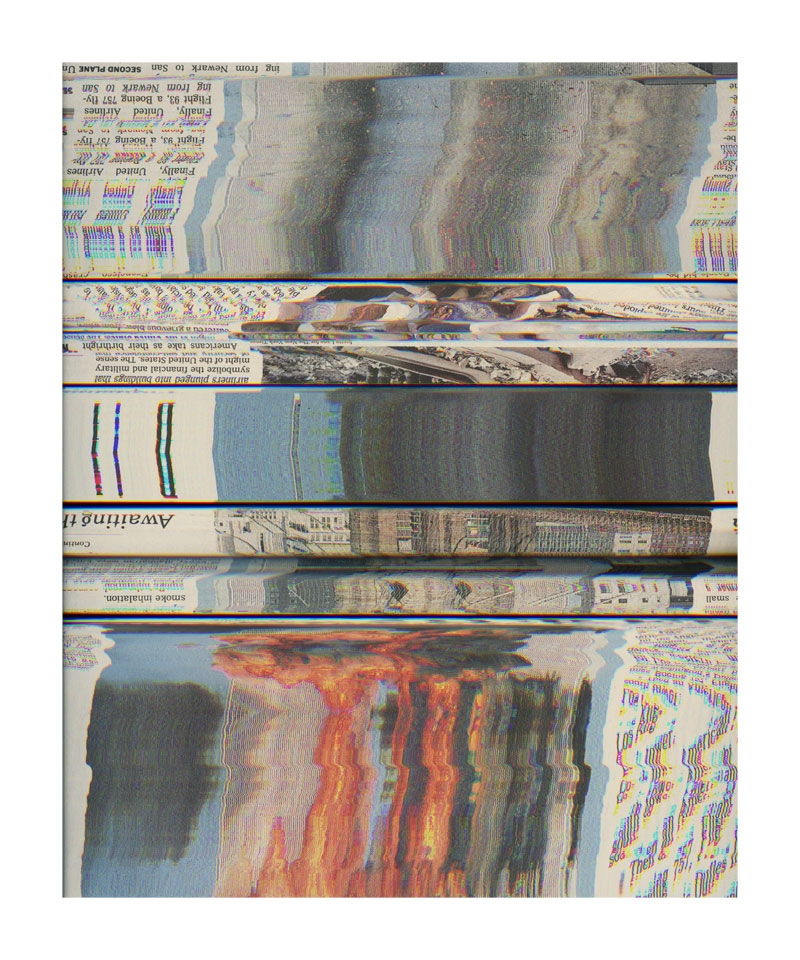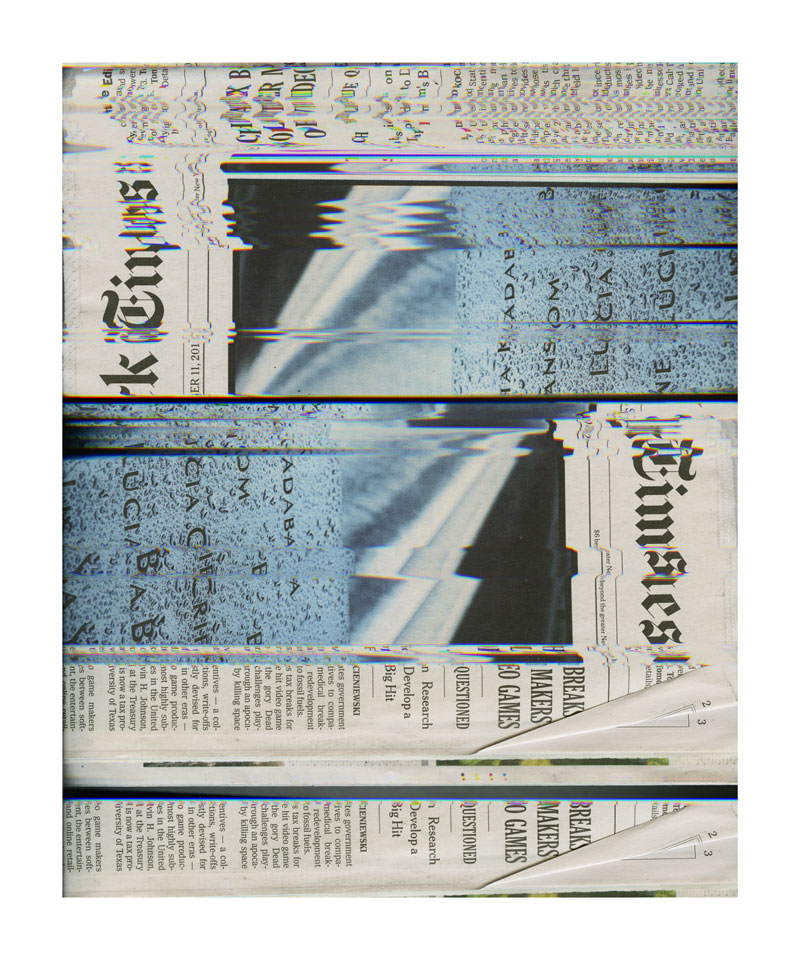 ---
The Responsibility of Freedom, 2012
4:27, High Definition Video







---